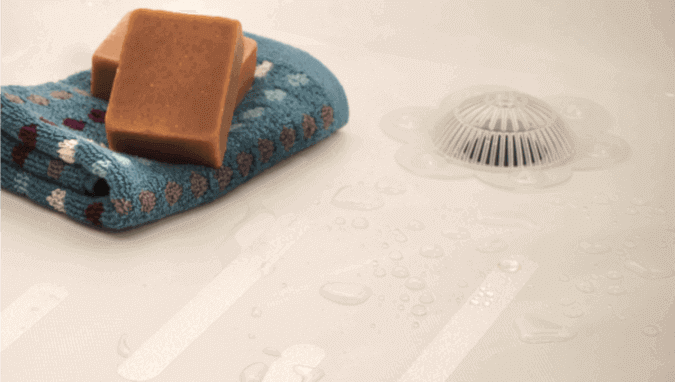 Best Non-Slip Mats for Refinished Bathtubs
Summary:
A refinished bathtub will have a glossy, like-new painted surface. This can be as slippery as the surface on the bottom of a brand new tub.
One option is to have the technician apply non-slip adhesives.
Another option is to purchase a non-slip bathmat that anchors to the bottom of your newly refinished bathtub.
If you purchase a non-slip bathmat for your refinished bathtub, make sure it does not use suction cups, because suction cups can damage the final coat and paint on a refinished tub.
---
Non-Slip Adhesives for Refinished Bathtubs
After a bathtub is refinished, the technician may or may not apply non-slip adhesives to the surface to provide traction. This depends on the service provided and what is discussed with each individual customer. Various companies will have different options and practices regarding whether non-slip adhesives are added.
NuFinishPro technicians offer the option of applying non-slip adhesives after we refinish bathtubs.
Non-Slip Bathmats With and Without Suction Cups
For bathtub owners who do not choose to use non-skid adhesive strips added, the other option is to buy a non-slip bathmat. Most non-slip bathtub mats adhere to the tub using suction cups. However, these suction cups are not ideal for refinished bathtubs, because they can damage the newly applied paint and coating on the reglazed surface. This damage may also void the warranty provided by bathtub refinishing companies, since the damage was done by the customer.
Our professional recommendation is to use non-slip bathmats without suction cups. These are special bathtub mats that do not damage the surface of refinished tubs. The main difficulty is finding these in stores, since they are not widely sold. These types of mats can also be referred to as "self adhesive bathmats" since they do not use suction cups.
We do our best to inform our customers about these options, and find that bathtub safety will always require having a non-slip surface regardless of whether the tub is brand new or refinished.
---
Conclusion:
Refinished bathtubs have a more delicate surface which can be damaged by the suction cups on non-slip bathmats.
When purchasing a new non-slip bathmat for your refinished tub, look for one that does not have suction cups.
Non-slip adhesive strips are also an effective option that provides a more textured surface to your bathtub surface. Ask your technician or refinishing company about whether this is provided in their service.